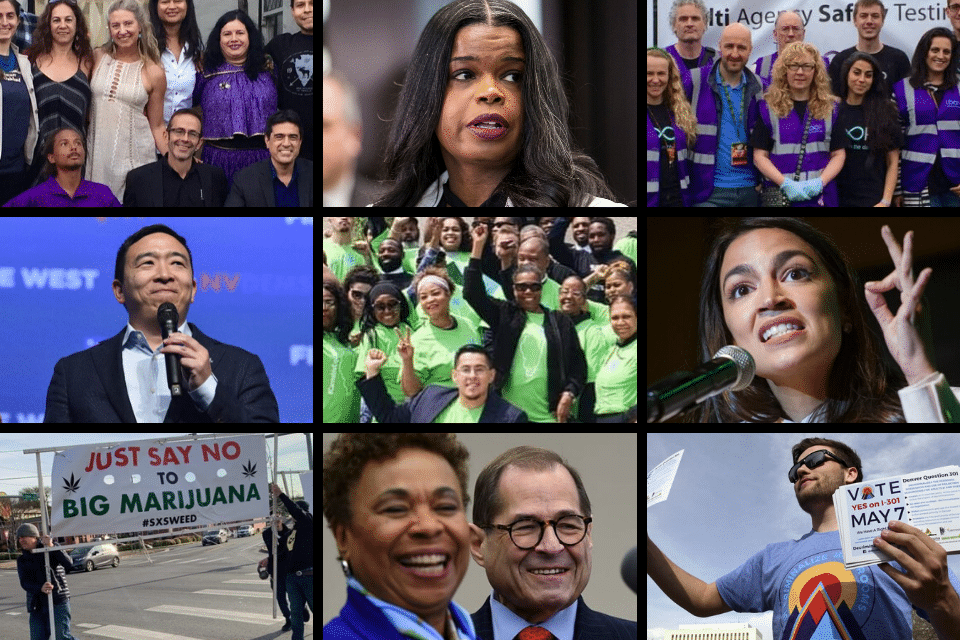 2019 was a significant year for psychedelics reform. Activists, researchers, and lawmakers around the world achieved real breakthroughs in growing our understanding of psychedelics and changing laws around them. 
But with more notoriety comes greater need for reflection. Will the "psychedelic renaissance" bring enlightenment and relief for millions of people, or will it serve as another engine for rapid commodification and widening inequality? In 2020 and for years to come, we will continue grappling with these difficult questions.
With that said, let's dig into the Top Ten Psychedelic Moments of 2019:
1.) As youth deaths skyrocket, British lead the way for MDMA harm reduction
In 2018, Great Britain saw deaths from MDMA skyrocket to their highest in 25 years. Nearly all of the victims were under 30. Knowing that "just say no" approaches are futile, non-profit harm reduction organization The Loop was approved by the UK Home Office to offer "front of house" drug checking services at seven music festivals this summer. More festivals offered "behind-the-scenes" drug checking.
The result was that more than 8,000 people checked their drugs over the summer. Festival- and party-goers who tested MDMA, ketamine, or cocaine were surprised to discover how often their drugs were cut with adulterants, dosed far higher than advertised, or contained none of the drug they thought they purchased.
Later this year in December, psychedelic researchers at the Beckley Foundation released an MDMA legalization proposal titled Roadmaps to Regulation.
The comprehensive proposal described how the UK could eventually regulate legal sales of MDMA. The proposal is firmly grounded in educating users and sellers about harm reduction. Taken together with the drug testing initiative, this shows that the British are taking harm reduction seriously—and the US would do well to follow their lead.
2.) No longer just a state's issue, marijuana reform goes to the big leagues.
Marijuana reform has finally started to move out of the cities and states and into the halls of Congress. The House of Representatives voted in September for the SAFE Banking Act, the first stand-alone cannabis reform legislation to pass a vote in Congress. This legislation removes financial and banking barriers facing legal cannabis businesses.
But even bigger news came later—in November, the House Judiciary Committee voted to advance the Marijuana Opportunity, Reinvestment, and Expungement (MORE) Act to a full House vote.
This legislation would legalize marijuana federally, provide expungement and resentencing of cannabis convictions, and invest tax revenues back into social services. This marked the first time in US history a congressional committee approved a marijuana legalization measure.
3.) FDA approves psychedelics while green-lighting further research
In March, the US Food and Drug Administration (FDA) approved Spravato, a nasal ketamine spray, for treatment-resistant depression (TRD). While promising, the FDA placed significant restrictions on where, when, how, and why users could receive the drug, and it remains expensive. And the history of massive healthcare fraud by the drug's developer, Janssen Pharmaceuticals, raises concern.

In a separate development, the FDA granted a breakthrough therapy designation to the Usona Institute, who are studying psilocybin therapy for major depressive disorder (MDD). Over 17 million Americans suffer from MDD, a population much larger than those with TRD. Usona began recruiting patients this year for their Phase 2 clinical trials at seven study sites throughout the US.
4.) As reform and research advances, psychedelic start-ups start to sprout.
Advances in psychedelic research and reform have inspired a new wave of start-ups and business ventures. In August, Denver-based Sträva Craft Coffee announced it was developing psilocybin microdoses to be infused into tea and coffee. In December, Oregon-based Silo Wellness announced it was seeking a patent for a precise, metered dose psilocybin nasal spray. 
New companies also entered the scene, hoping to get ahead of loosening restrictions on psilocybin and other psychedelics. US-based CaaMTech, LLC, which formed in 2018, published in March the first in a series of investigations of psychedelic analogues. In April, a California-based but Chinese-owned subsidiary company, MJ MedTech, formed a new division to investigate therapeutic uses of psilocybin.
5.) Policy and technological advances in cannabis record expungement give relief to tens of thousands of people.
Though legal cannabis states like California and Illinois allow for expungement of some current and prior cannabis convictions, the process is often very complex, time-consuming, and expensive. Enter automated expungement: California technology company Code for America developed software that automatically searches records, identifies who is eligible, and completes their expungement applications—in seconds.
In February, the San Francisco District Attorney used the software to help begin the expungement process for over 9,000 convictions dating back to 1975. In August, prosecutors in Illinois' largest county, Cook, announced they too would partner with Code for America to help them expunge tens of thousands of convictions dating back decades. Protesters from San José to SXSW in Austin demanded simple reforms like these to make sure legalization benefits everyone.
6.) Psychedelic science keeps mushrooming.
Psychedelic scientists published tomes of new research this year, finding all sorts of new and innovative ways to utilize psychedelics. 
In April, Dr. Ben Sessa at Imperial College London recruited four patients for an eight-week study of MDMA as a treatment for alcohol use disorder. Preliminary findings released in August showed that all four participants successfully reduced their drinking or stayed sober after receiving MDMA. Separate research from University College London published in November found that ketamine may reduce alcohol misuse.
In June, University of Chicago researchers revealed findings from their double-blind, placebo-controlled study of LSD microdosing. They found that microdosing may increase feelings like vigor, anxiety, bliss, and unity. LSD did seem to make completing a creative task more difficult for participants, and made them slightly more likely to have negative feelings about 'emotionally positive' images.
In October, researchers published an article in The Neuroscience of Consciousness hypothesizing that psilocybin may help revive people who suffer from disorders of consciousness (DoC) caused by traumatic brain injury. They reason that the drug may increase communication between different areas of the brain.
And Miami University researchers figured out how to make E. coli bacteria poop giant amounts of psilocybin!
7.) Psychedelic research attracts tens of millions in private funding.
Of course, all this psychedelic research doesn't come cheap. In 2019, psychedelic donors came packing big dollars. In April, the Imperial College London launched the world's first psychedelic research center–or 'centre' depending on which side of the Atlantic you're on!
The Imperial Centre for Psychedelic Research was funded by over £3 million from five private donors. That will finance its continuing research into psilocybin, LSD, and MDMA for depression and anorexia, as well as… well, the nature of consciousness itself.
But because Americans don't like being overshadowed, Johns Hopkins Medicine followed in September by founding the first psychedelic research center in the US. The Center for Psychedelic and Consciousness Research will study drugs like psilocybin and LSD for depression, anorexia, and addiction. The center is funded by $17 million by private donors and a foundation.
And the momentum didn't stop there. That same month, Canadian psychedelic company Field Trip Ventures announced it was founding and fully funding the world's first psilocybin mushroom research center, in partnership with the University of the West Indies in Mona, Jamaica. They will put their findings to profitable use.
8.) Psychedelics break into the halls of Congress and the 2020 campaign trail.
In June, first-term New York Congresswoman Alexandria Ocasio-Cortez proposed an amendment to a federal spending bill to remove a rider that effectively would prohibit psychedelic research.
She specifically highlighted scientific research showing the therapeutic potential of drugs like MDMA and psilocybin. Though her effort failed, she signaled this fall that she will try again in 2020, and also voiced support for the decriminalization of all drugs.
Meanwhile, 2020 Democratic Presidential contender Andrew Yang has also shown support for psychedelics. In December, Yang tweeted "We should explore making psilocybin mushrooms legal for medical and therapeutic use particularly for veterans." He says he changed his mind after talking to a veteran in Iowa who used psilocybin to manage his depression. His 2020 primary opponents, South Bend, Indiana Mayor Pete Buttigieg, and Representative Tulsi Gabbard (D-HI) both spoke in favor of broader drug decriminalization.
9.) Oregon and California progress towards psilocybin legalization.
Will psychedelic legalization follow in marijuana's footsteps? In 2019, two West Coast legal cannabis states made significant strides towards realizing that.
In September, Oregon state officials certified the Psilocybin Service Initiative. If successful, this initiative would partially legalize psilocybin mushrooms by creating a restricted system where patients could access therapy from physicians at state-licensed clinics. But first, supporters have to gather over 112,000 signatures by July 2020 for the initiative to be placed on the ballot for voters to decide in November 2020.
In November, activist group Decriminalize California filed a statewide ballot measure that would decriminalize possession and cultivation of psilocybin mushrooms—and create a system of regulated retail sales. The group is still waiting to receive approval from state elections officials, but they plan to begin gathering signatures in 2020 for inclusion on the November ballot.
And last but not least…
10.) Psychedelic decriminalization sprouts in Denver and Oakland before becoming a global, activist movement.
If 2019 will be remembered for anything in psychedelic history, it will be this. More so than any other development, decriminalization efforts around the country showed that bold drug policy reform can be achieved locally without prior approval from the federal government, venture capital investors, the FDA, or Ivy League researchers.
It started in May, when the city of Denver, Colorado narrowly approved decriminalizing use and possession of psilocybin mushrooms by popular ballot. The results were so close that on the evening of the vote, media outlets reported that Initiative 301 had lost—only to report the next morning that it had actually succeeded with a razor-thin 50.6 percent of the vote. Denver was a first in US history.
Less than a month later on June 4, the City Council of Oakland, California unanimously approved a Decriminalize Nature resolution introduced by the eponymous psychedelic activist group of the same name. This legislation went even further than Denver's by decriminalizing use, possession, and cultivation of psilocybin mushrooms, ayahuasca, iboga, peyote, and San Pedro cacti.
Throughout the summer and fall, psychedelic decriminalization efforts were launched in major cities like Berkeley, CA, Chicago, IL, Santa Cruz, CA, Dallas, TX, and Portland, OR. Decriminalize Nature estimated that over a hundred cities all throughout the US and in Europe had reached out to them for assistance in helping them replicate their victory.
So where does that leave us as we enter the New Year?
Arguably the two most important psychedelic developments of 2019, global decriminalization and massive private investment, happened in tandem. While entheogenic activists met in libraries and coffee shops in Oakland or knocked on their neighbors' doors in Denver, entrepreneurs and venture capitalists throughout the world sunk millions of dollars into new for-profit research centers, biotech companies, and pre-market consumer products.
The for-profit psychedelic actors highlight the success of decriminalization in cities like Denver and Oakland, while predicting that Oregon and California will follow with more expansive legalization next year. New business opportunity is only possible because of grassroots activists changing laws and policies, they say. Meanwhile, the grassroots activists say legal and policy change is only possible because of the promising results of clinical psychedelic research.
Psychedelic Times has written about some of the challenges and even promises of for-profit psychedelics. Thankfully, advocates and activists of all political persuasions are still arguing about this controversy. Remember, both Denver and Oakland explicitly do not allow buying or selling of psychedelics. But if the Oregon and California ballot measures succeed next year, the calculus changes. The debate over who is able to benefit from psychedelics—and how—will become much more real.
One last note: whether psychedelic capitalist or activist, nearly everyone points to the decriminalization and legalization of marijuana across the world and in 11 US states as a model for how to legalize psychedelics. But what are we modeling our policy after—is it continued racial disparities in marijuana enforcement in New York City? Is it an interminably complex and drawn out business licensing process to fulfill the promises of social equity? Is it Drug War-style raids on illicit cannabis businesses in Los Angeles?
The answers to these big questions will not be easy to determine. But with more people at the table participating in these debates, more of us will have a say in the future of psychedelics. And with that said… Happy New Year and New Decade!
Images top row, from L-R: Decriminalize Nature Oakland activists celebrating victory; Cook County, Illinois State's Attorney Kimberly M. Foxx; British harm reduction non-profit the Loop conducting drug checking.
Images center row, from L-R: 2020 Democratic Presidential candidate Andrew Yang; Cannabis Equity Illinois activists participating in a lobby day; Representative Alexandria Ocasio-Cortez (D-NY).
Images bottom row, from L-R: Cannabis activists protesting during SXSW event in Austin, Texas; Representatives Barbara Lee (D-CA) and Jerrold Nadler (D-NY) speak in support of the MORE Act; Decriminalize Denver activist canvassing.