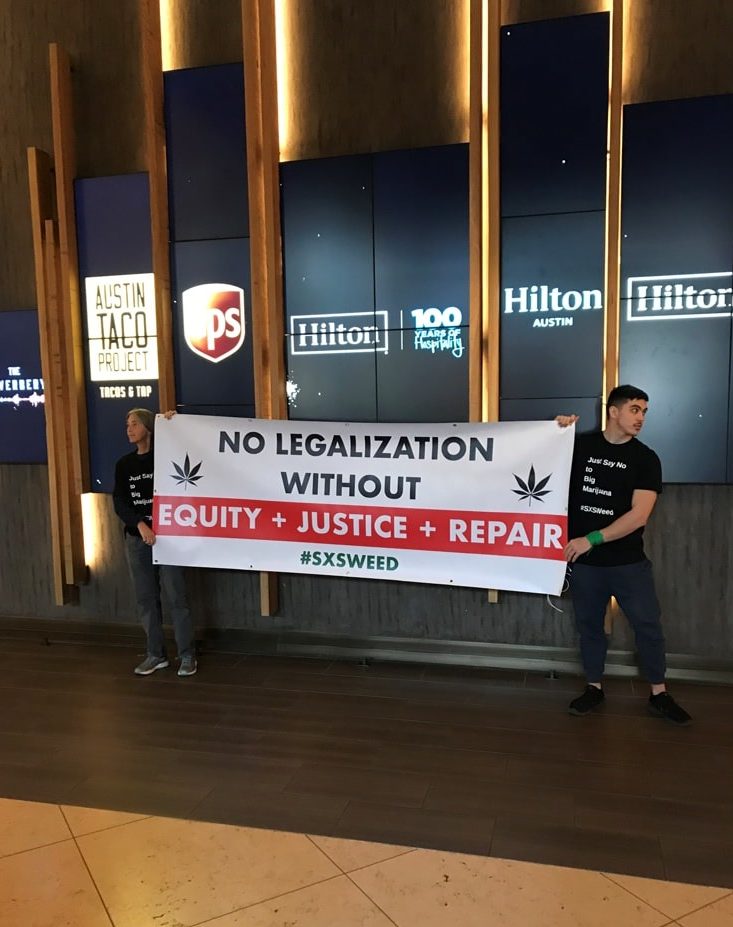 On Friday March 15, 2019 cannabis activists protested in Austin, Texas outside South by Southwest (SXSW) as former U.S. House Speaker John Boehner presented on the cannabis industry with Acreage Holdings C.E.O. Kevin Murphy. They also spoke out against MedMen CEO Adam Bierman, who presented the day prior. Acreage and MedMen cannabis corporations are based in Canada and the U.S., respectively.
Protesters led by the Equity First Alliance (EFA), a national cannabis and social justice coalition, pointed out the innate hypocrisy of SXSW featuring these presenters a mile from the Travis County Jail in a state ranked number one nationwide for marijuana arrests in 2016 (FBI). They criticized Boehner—a board member of Acreage—for profiting from legal cannabis now, after opposing legalization as the most powerful legislator in the country during the Obama administration.
Bierman and MedMen, meanwhile, face allegations of labor violations, misuse of financial resources, and workplace racism and homophobia, as the protesters highlighted at the event and in a press release.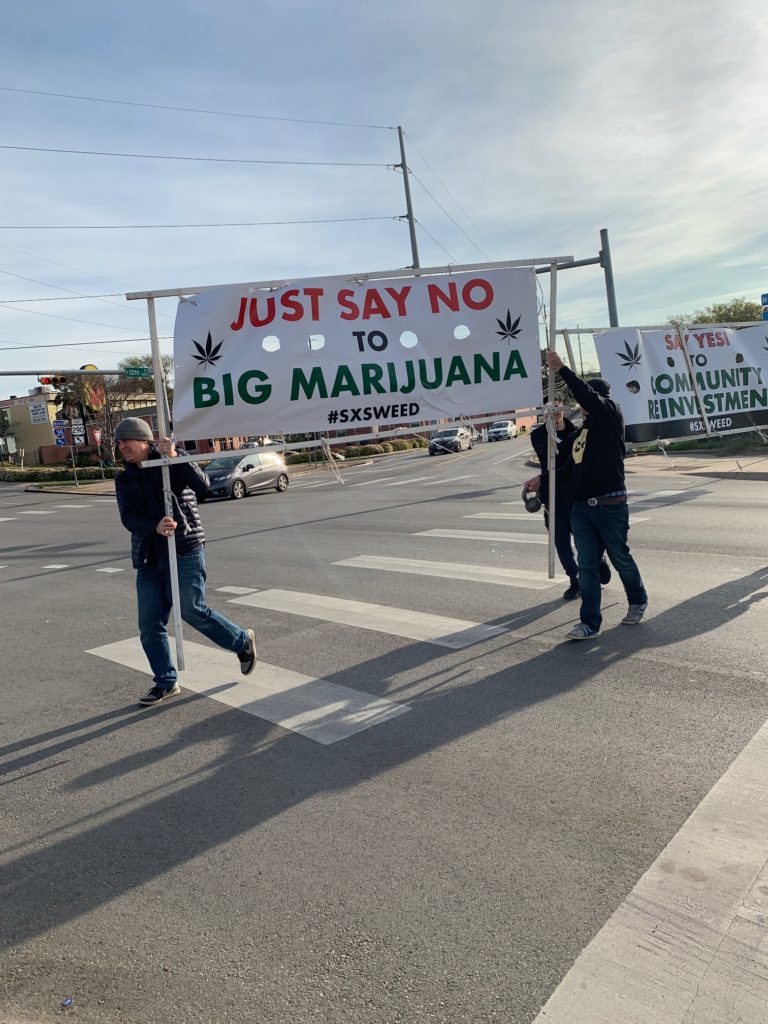 Psychedelic Times spoke with Kristen Lovell of the Social Impact Center in Los Angeles, who participated in the demonstrations with E.F.A. Lovell noted that the actions at SXSW were made possible only with the support of Cage Free Cannabis, Tree Femme Collective, and the Austin Justice Coalition
Our conversation focused heavily on cannabis social equity programs. In legal cannabis states, different forms of these programs have been implemented at the city-wide level—such as in Los Angeles, in San Francisco, and in Oakland—and at the state level in California and Massachusetts. Each program may work a little differently, but in spirit they are all designed to lower barriers to entry in the cannabis industry for qualifying applicants coming from communities disproportionately impacted by the War on Drugs.
The Los Angeles City Council's Rules Committee moved on March 5, 2019 to consider entering Phase 3 of the city's cannabis business licensing program. The first two phases, implemented between 2018 and early 2019, issued licenses only to longstanding non-retail businesses in the city. The City Council's announcement angered cannabis advocates who claim the licensing process is unfairly benefiting wealthy businesses while the social equity program lacks sufficient funding and enforcement.
This interview has been edited with modest creative liberty.
Why did E.F.A. choose this day and venue to stage this protest? Was it specifically to raise awareness about the ethical issues surrounding John Boehner and Adam Bierman?
This goes beyond that. On the national stage at SXSW, we wanted to maintain visibility on a broader set of issues. Whenever there is a panel about marketing and investment, we need to make those conversations about community reinvestment and expungement. Before people get green in the eyes, we need to release the cannabis prisoners, expunge those crimes and give people their lives back.
What is the status of social equity in the cannabis industry, nationwide? How far is the industry going to right the wrongs of the War on Drugs for the Black, Brown, and low-income communities it targeted?
However far we're going now is merely lip service. Right now in Los Angeles we do not have a funded social equity program. We're over a year into our program, as the city enters Phase 3 of cannabis business licensing, and our program does not have the funding for the business and technical assistance mandated by the city. It goes against the original intent of the legislation that created this program, which identified areas with disproportionate marijuana arrest rates and poverty levels to receive this assistance. As we move forward hastily, trying to ensure that people who pay enough money get their business licenses, we're neglecting a disadvantaged population.
It's frustrating—if we lose a city like L.A., we'll have a difficult time showing a proof-of-concept for other cities as we roll out national legalization. We need to prove that equity programs work and fund them. Right now, L.A. Mayor Eric Garcetti is not funding them and it's failing our most affected citizens.
What happens if the social equity program in L.A. falls through? Whom will that affect and what are the implications nationally?
The people hurt most by this program not being funded are the applicants. These are people who have been affected by the Drug War and have had criminal convictions, people who grew up in disproportionately affected zip codes and who qualify for social equity status. Big businesses are now coming in as 'poverty pimps' and 'body brokers' trying to get an edge on other corporations by partnering with social equity applicants. These partnerships are not always transparent, and there are a lot of predatory practices occurring, which we saw in Phase II. That is crippling our process.
Not funding the social equity program is also affecting our communities at large because we don't have a community reinvestment program nor mandated corporate social responsibility. We do ostensibly have those as part of our licensing process, in the form of community benefit agreements. But there's no way to enforce those to ensure these companies are doing the work they said they would.
If our social equity programs are not funded, they will just not exist. They will not be seen as successful and no one will invest in them further. We can't let that happen, and let the city take away what is due to the individuals who have been fighting this racist war.
Obviously, many of these programs nationwide are facing different issues in their execution, so what would it mean for you if L.A. succeeds with this?
We're struggling and scrambling to create these models of justice. Whichever city does that first will score a victory. The city of L.A. is the largest cannabis market in the world but it also has the largest prison population in the world. It would be significant for L.A. to lead the way in creating successful social equity programs. I have hope for my city, and for other cities trying to make this work. San Jose is working on a similar program, so there's great promise there. We just have very limited time.
How do you relate what is happening in L.A. with what happened at SXSW?
The issue in Austin is that a mile away from the Hilton Austin Downtown where the conference is held is the Travis County Jail. I'm from Texas so this hits close to home for me, that the first inaugural cannabis track at SXSW had speakers like Adam Bierman and John Boehner. I don't think they represent our community and what I want moving forward in this industry.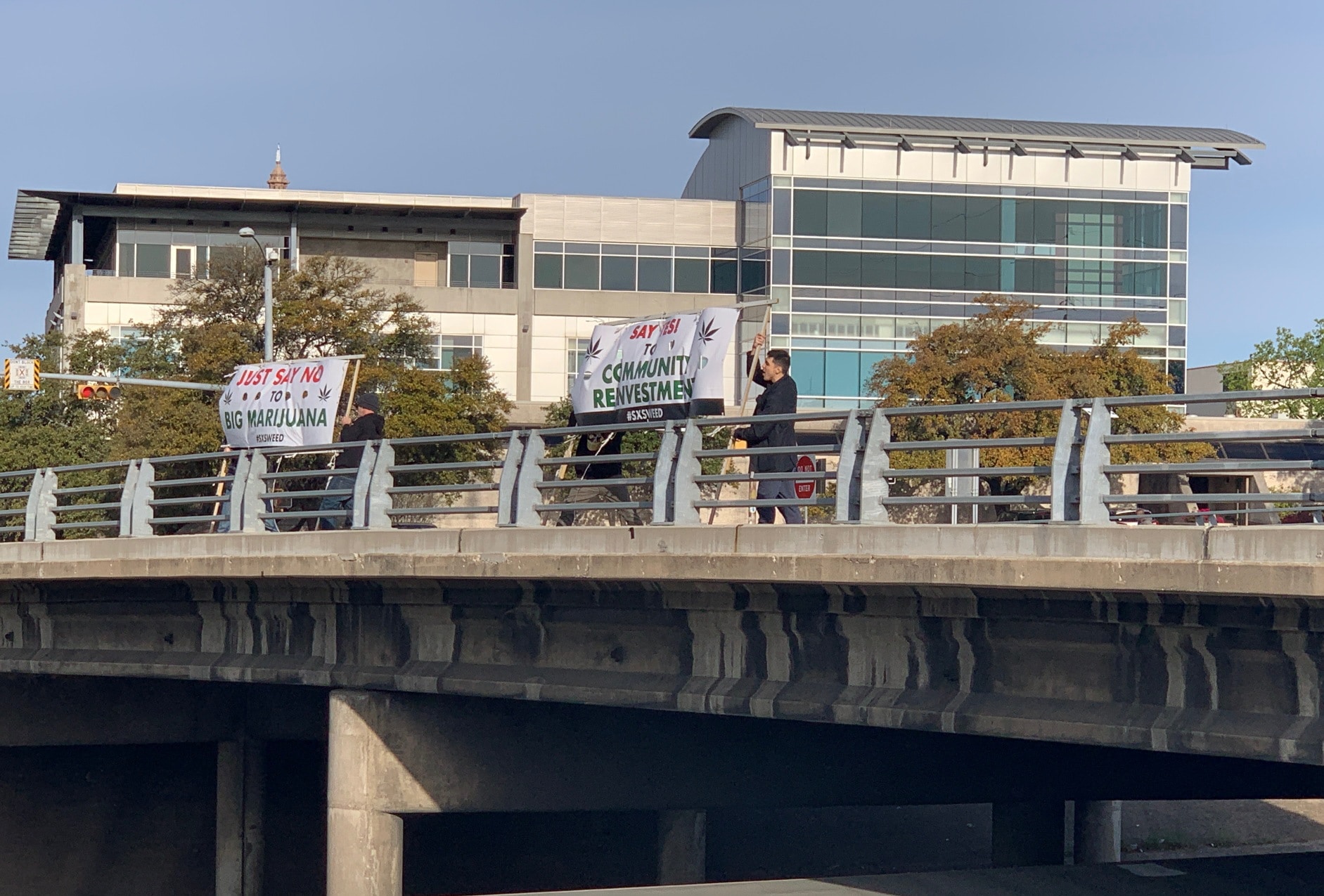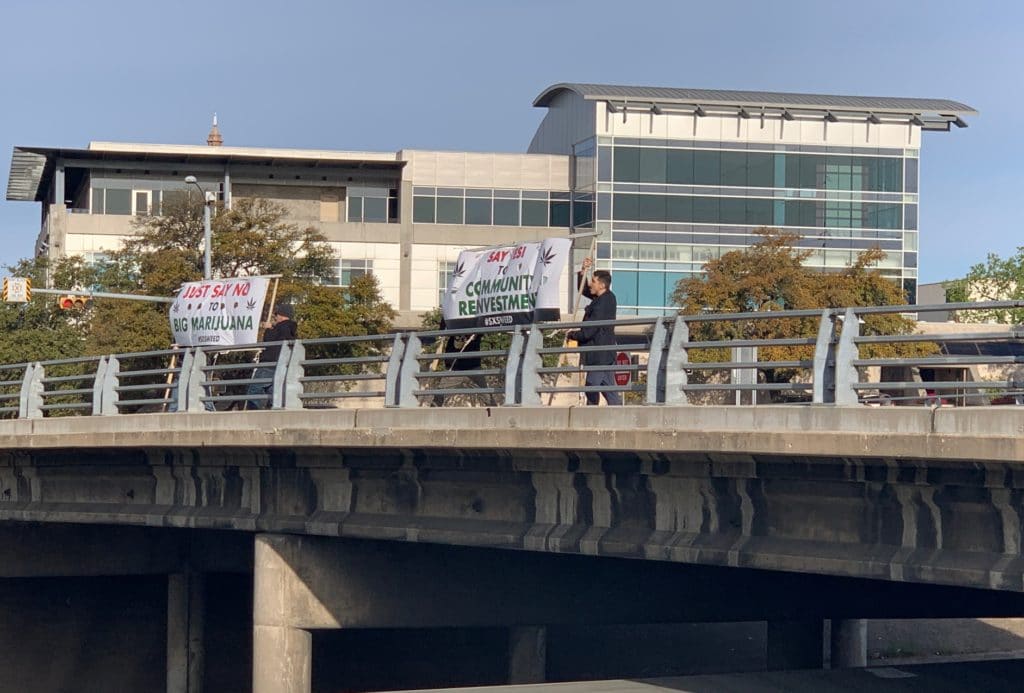 What is the plan now, moving forward from SXSW? What is E.F.A. focusing on?
We're focusing on our equity demands (see press release. ) and working through our relationships within the cannabis community. We're also looking for outside allies in the criminal justice, feminist, and cooperative movements—we need more social justice warriors to have all hands on deck.
What role do local and state governments need to play in this equity movement?
Governments just need to be held accountable for what we vote on. Lawmakers can claim they did the right thing by creating these provisions, but if we don't follow through on their implementation it doesn't mean anything.
Besides that, we need community reinvestment, automatic expungement, mandated corporate social responsibility, and cooperative business models.
The Equity First Alliance (EFA) is calling for:
10% of companies' annual revenue to be reinvested in communities disproportionately harmed by the War on Drugs;
A new paradigm of social responsibility in the cannabis industry;
Public policies that create an equitable, just, and reparative industry.
Author's note: It is clear that cannabis social equity programs, while well-intentioned, may potentially perpetuate inequality in cannabis business ownership and leadership by incentivizing eligible applicants to partner with large companies in exchange for easy capital. As Lovell explained, the movement for a fair cannabis industry doesn't stop when laws pass a vote–it continues long afterwards, because without accountability from constituents politicians have little reason to fulfill their promises. Stay tuned as Psychedelic Times examines this complex issue in cities and states around the country.