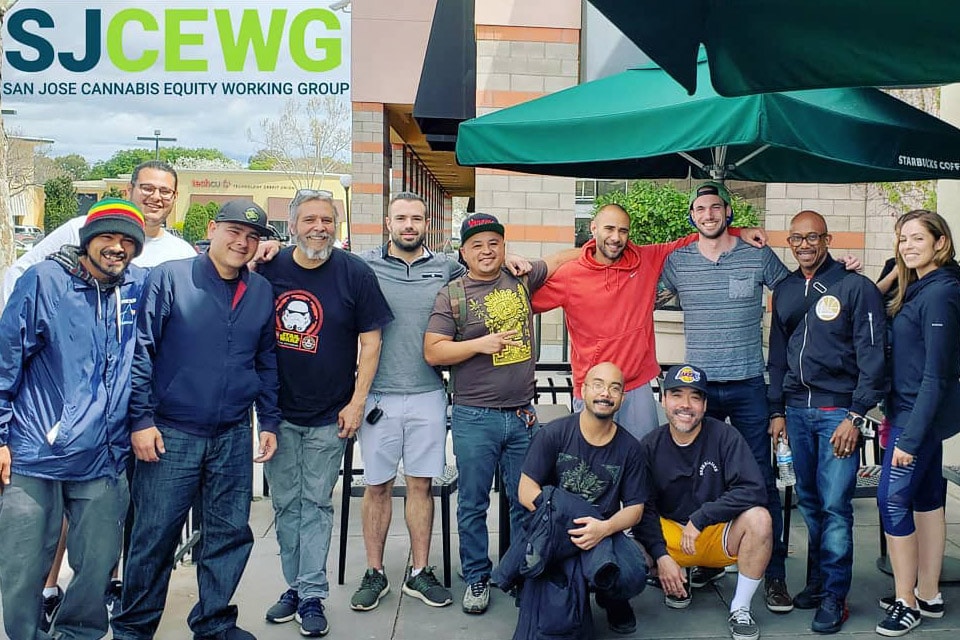 San José is the largest city in Northern California and seat of the state's wealthiest Santa Clara County. But local cannabis activists are fighting to make their city a leader in social equity. On Tuesday March 26, 2019, the San José City Council voted to create an equity assistance program for the local cannabis industry.
This 'Cannabis Equity Assistance Program' would provide job training and technical, financial, and employment assistance to people from disadvantaged communities starting cannabis businesses. The City Council adopted ordinances to establish eligibility criteria for the program and to define "equity applicants" and "equity business owners."
Eligible grant recipients must live for at least four years in a low-income area of San José, or have attended a public school for four years in a low-income area, or have been arrested or convicted for a cannabis crime, or have a family member who was convicted for a cannabis crime.
The city was pressured by the State of California to pass this program by April 1, 2019. In September 2018, former Governor Jerry Brown signed into law the California Cannabis Equity Act (SB 1294), which established a statewide program to help cities fund and implement their own social equity programs. The state allocated $10 million in grants for cities, but allowed only a one-month application period during March 2019.
San José currently has 16 licensed medical and recreational cannabis shops, but almost none have any minority ownership. Spurred by the increasingly unequal cannabis industry, a coalition of cannabis activists formed the San José Cannabis Equity Working Group (SJCEWG) to create social equity in their city.
SJCEWG Chair Daniel Montero, a San José native and twenty-year veteran of the cannabis industry—both legal and illicit—explained his stake in the movement. "Doing my best to navigate the landscape after Prop 64 legalized recreational weed in 2016, I realized that without an equity program I stood no chance in the cannabis industry," he said.
Montero is a first-generation Latino American who first started working in the illicit cannabis industry at age seventeen. Throughout his two decades, he worked in cultivation and retail, survived two cannabis convictions that are now expunged, and formed his own Green Walrus Delivery company—all while California slowly transitioned to a legal cannabis industry after medical, then recreational legalization.
The game has completely changed since his teenage years. "We're now seeing the most aggressive businesses and well-financed organizations jump into this industry," he said. "We're seeing tech capitalists with millions of dollars getting in the game. Without cannabis equity, I can't compete with endlessly deep pockets."
After 2016, Montero took note as his neighbors to the north like San Francisco and Oakland built some of the state's first social equity programs. In 2017 he met Nina Parks, co-founder of Supernova Women who helped develop the social equity program in Oakland. In January 2018, Parks introduced him to Dr. William Armaline, an Associate Professor of Sociology and Social Sciences at San José State University.
Dr. Armaline was already involved in the equity movements in San Francisco and Oakland, Montero explained, and together they helped form the SJCEWG to bring the movement to San José.
"We have the luxury of creating our program in hindsight, seeing what hasn't worked in the other cities, and crafting our program in real-time," Montero said. The key difference with the San José initiative is it seeks to create a public funding mechanism for its program.
"Private funding in Oakland and San Francisco was extremely problematic," he said. "Bigger corporations partnered with social equity applicants to get priority in business licensing. They would fulfill the minimal requirements—if that—of their contractual obligations to the equity applicants, who got the short end of the stick."
Social equity applicants who lacked sufficient financing and resources to start up agreed to sell ownership in their businesses to larger players, giving away what they worked so hard for. Montero compared the situation to the hip hop music industry of the 1990's, where many rappers became superstars but failed to understand the legal and business mechanisms to own their art and their careers.
SJCEWG is calling for ten percent of the gross receipts tax on the city's cannabis sales to help fund its program, in addition to funding received from the State under SB 1294. The group is working with city government to use existing staff and agencies to implement the program. This is easier for the city, Montero said, than creating new departments from scratch as other cities attempted.
Beyond the scope of what the City Council approved, the SJCEWG is fighting for automated expungement of cannabis convictions in Santa Clara County through Code for America, a non-profit developing a computer-assisted expungement mechanism. They estimate that several thousand people in the County qualify for felony reduction and misdemeanor expungement of past cannabis convictions.
After successful passage of Prop 64 and AB 1793, the state of California has allowed for the expungement of low-level marijuana convictions, but Santa Clara County officials have moved slower on this issue than their neighbors in San Francisco.
Earlier last year, San Francisco District Attorney George Gascón announced the city's plans to clear thousands of cannabis convictions, and later in 2018 teamed up with Code for America. Montero said SJCEWG has already consulted Code for America about partnering with Santa Clara County officials, noting that the District Attorney has no valid excuse that expungement takes too much time and effort.
SJCEWG is also helping develop a jobs creation program through the city's Office of Economic Development, said Dr. William Armaline, one of the the initiative's architects. This would include quarterly job fairs and informational sessions.
The city is now accepting new applications for cannabis distribution, lab testing, and manufacture businesses, Dr. Armaline explained. But it is not currently licensing any new retail or delivery businesses, which the city previously capped at 16. The City Council is reconsidering zoning regulations to allow more retail shops, over concern that most of the existing shops are concentrated in District 7.
Montero sees the equity movement as the key to California's economic survival, which is poised to become the single greatest cannabis market in the world when the United States de-schedules cannabis. "What's going to magnetize international tourism to California is someone within the culture who can articulate what the authentic California cannabis experience is," he said.
"When you go to Sonoma and Napa Counties, they're not selling you a glass of wine—they're selling you an experience. Wine has transformed those areas, and people from all over the world visit to try hundreds of different independent, craft wineries."
But the cannabis industry in California is heading in the opposite direction, towards multi-state and multi-national operators entering communities with whom they have no relationship and marketing a standard, sanitized experience.
Instead of wine country, California cannabis is looking more like one of its largest industries—technology. While Silicon Valley has a reputation of innovation and progressive spirit, the region's monthly average housing cost is the highest in the U.S., and its low and middle-class workers have lower wages than they did twenty years ago while the highest earners' wages increased. (And let's leave for another day the Facebook-Russian-troll-farm-2016-election-interference drama.)
"All we're trying to do is survive this revolution of the game," Montero said. "Before it was helicopters in the hills and police and shady guys looking to rob you—now it's guys in suits and ties and lawyers trying to rob us!"
But Montero believes if the cannabis industry stays united, it can survive corporatization and monopolization. "We're in a renaissance, and cannabis values are at direct odds with corporate values," he said.
"Corporate America is unsustainable—it's about profit before people. Cannabis values are treat each other with respect, understand each other, live sustainably, appreciate nature, appreciate agriculture and the synergy and connection we have with the Earth."