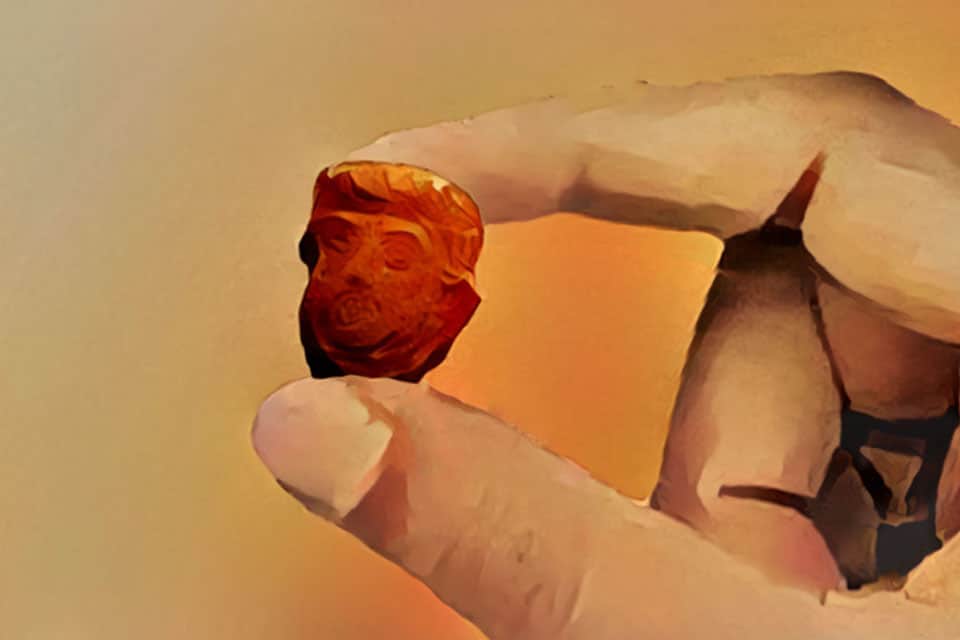 The following article and featured illustration about Trump-shaped MDMA is by guest contributor Russell Hausfeld.
Reports of high-dose MDMA pills shaped like Donald Trump have been circulating in the media for years.
MDMAGA
In 2017, the BBC reported a German police seizure of nearly 5,000 Trump-shaped MDMA pills with "NL" stamped on them.
In 2018, The Telegraph reported that Trump-shaped pills containing over double doses of MDMA were found at the Bestival music festival in Dorset. A non-profit called The Loop found that these pills contained upwards of 250 mg of MDMA per pill. For comparison, the Multidisciplinary Association for Psychedelic Studies (MAPS), uses doses of 80-120mg of MDMA in their clinical trials for the FDA.
A brief survey of Trump-shaped MDMA pills tested through the anonymous drug-testing website DrugsData.org turns up dose sizes ranging between 151mg and 246.7mg. One pill tested from Chicago was actually just methylsulfonylmethane, caffeine, and methamphetamine. No MDMA at all.
The same year that the pills were found at Bestival, authorities in Hong Kong reported an upswing in confiscations of Trump-shaped MDMA pills. And, highway police across the globe in Indiana confiscated some of these chalky tyrants, as well.
This year, police in Florida found five orange, Trump-shaped MDMA pills in a home while responding to an overdose. These, like the pills from Germany, were marked with the signature "NL."
"NL" seems important.
This stamp most likely means that these pills are from the Netherlands, which is one of the largest producers of MDMA in the world. Mike Power reported on one group of drug producers from the Netherlands known as Partyflock or Q-Dance Crew in 2015. He writes that they take "pride in producing premium, hard-to-fake pills in new shapes and sizes and colors, usually containing extremely large doses of very pure MDMA."
On the darknet markets, you can find MDMA presses in a variety of shapes such as UPS logos, Lego blocks, Donkey Kong, Superman's emblem, and more. They are always changing. As copies of one producer's pill begin to emerge, they move on to a new design. A quick survey of pressed pills available on one darknet market revealed no MDMA pills under 200mg, with some ranging as high as 300mg. Most of these pills appear to be coming from Germany, the UK, and the Netherlands.
So, a lot of MDMA comes from Europe. But, why are pills being produced at such dangerously high doses?
Mitchell Gomez, the executive director of DanceSafe, told me that these high-dose pills are a result of European laws. In many European countries, getting caught with one MDMA pill will garner very little penalty.
Madalyn McElwain, DanceSafe's legal and financial officer, added that the same could be said for most drug laws in the United States — getting caught with one multi-dose pill most likely has lower consequences than getting caught with multiple single-dose pills.
"[These circumstances] have incentivized clandestine European chemists to create a stronger pill that contains 2-3 doses rather than keeping a single dose in a pill for purposes of lessening punishment if the end-user is caught with it," McElwain said. "This is absolutely a consequence of drug prohibition since the black market has no regulatory oversight."
Savvy users will know to look for a score mark to split pills into halves or quarters, and those buying from the darknet get a clear look at the dosage of the pills they are buying.
But, education tends to fall by the wayside the further down the supply chain you get. So, the music festival-goer digesting a tiny Trump head may never have been told the dosage of the pill they just took. Higher doses of MDMA can lead to dangerous cardiovascular events and overheating, especially in settings like a dance club or music festival.
If you end up with your hands on a Trump-shaped MDMA pill — or any other novelty MDMA press — consider taking it in halves or quarters. Pressed pills can sometimes take longer to break down, too, so always give them around two hours to set in before going in for another dose.
Russell Hausfeld is a journalist living in Cincinnati, Ohio. His fascinations lie in the nuances of human consciousness, the ways that drugs influence culture, and the right to bodily freedom. Find more of his work at www.russellhausfeld.com.