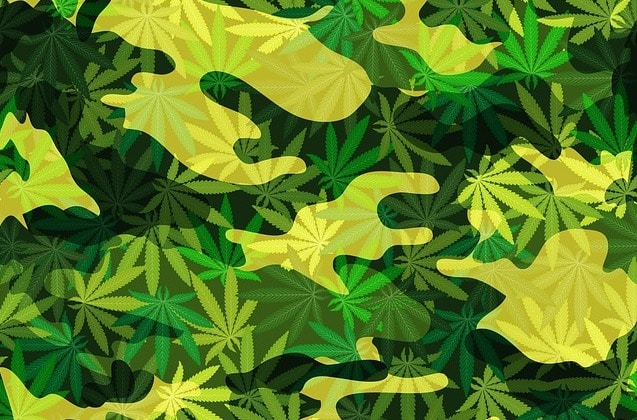 Many U.S. military veterans are suffering from Post-Traumatic Stress Disorder (PTSD) symptoms due to traumatic events they have witnessed or experienced themselves during their service. Similar to the Phase 3 research study that is taking a look at the virtues of MDMA-assisted psychotherapy for treating PTSD, there is a Phase 2 pilot study exploring the safety and efficacy of smoked cannabis in treating PTSD symptoms in veterans.
The WeCan Study was funded by and is being conducted by the Multidisciplinary Association for Psychedelic Studies (MAPS) at Scottsdale Research Institute in Phoenix, Arizona. The study is part of a larger effort by MAPS "to demonstrate the safety and efficacy of smoked botanical marijuana as a prescription medicine for specific medical uses to the satisfaction of the U.S. Food and Drug Administration."
The study is still seeking volunteers, and since as many as 20% of military veterans have PTSD, it probably won't be too difficult to find volunteers. If you or someone you know qualifies to participate, we advise that you contact WeCan Study to gather more information and find out if it is possible to get involved. Keep reading below to find out more about the study and whether you qualify to participate.
Study Design
The WeCan Study includes multiple stages that examine four different concentrations of cannabis to determine if they are safe and/or helpful for people with PTSD. Trial participants will typically participate in the study for 10 to 18 weeks and must be able to make regular visits to Scottsdale Research Institute's clinic in North Phoenix.
During the course of the study, volunteers will smoke up to 1.8 grams of cannabis per day and provide reports about how the herb affects their PTSD symptoms. Over the course of the study, four different concentrations of cannabis will be tested using a triple-blind model: high THC marijuana, high CBD marijuana, high THC/high CBD marijuana, and placebo marijuana.
The study's results are anticipated to raise the standard level of care for veterans with PTSD, open up possibilities for new research and treatment, and provide clear scientific data on the efficacy of cannabis for PTSD. There are many anecdotal reports of cannabis being used to reduce nightmares, anxiety, and sleep difficulties in people with PTSD, but so far there have not been any scientific studies looking at this solution to the problem. This rigorous controlled research is going to finally put those claims to the test.
Confidentiality
Information that is provided to the study will be kept confidential and will not directly identify the participants. Volunteers will not be identified by name, address, or social security number. Instead, a unique code number will assigned to each participant for identification. Since this is a federally authorized study, participation will not affect the volunteers' VA benefits.
Volunteer Qualifications
To qualify, you must be a U.S. military veteran, have PTSD, and pass a routine screening and physical exam. Please note that meeting these criteria does not necessarily guarantee acceptance into the study. There are more specific inclusion and exclusion criteria listed under the "Eligibility Criteria" section on ClinicalTrials.gov.
Conclusion
If you have read this article and feel that you or someone you know may qualify to volunteer as a participant in this research study, we suggest that you contact WeCan Study to gather more information and find out if it is possible to get involved. You will be contacted a few days after submitting your contact information with more details and the option to schedule a pre-screening interview. Following that interview, you can decide whether or not you would like to volunteer for the study.
This is an exciting time to be involved with psychedelic research. Even if you do not know anyone who may be interested or eligible to participate in this study, please consider sharing this article with your social network. By spreading the word you can play a significant role in improving the standard care for veterans with PTSD.