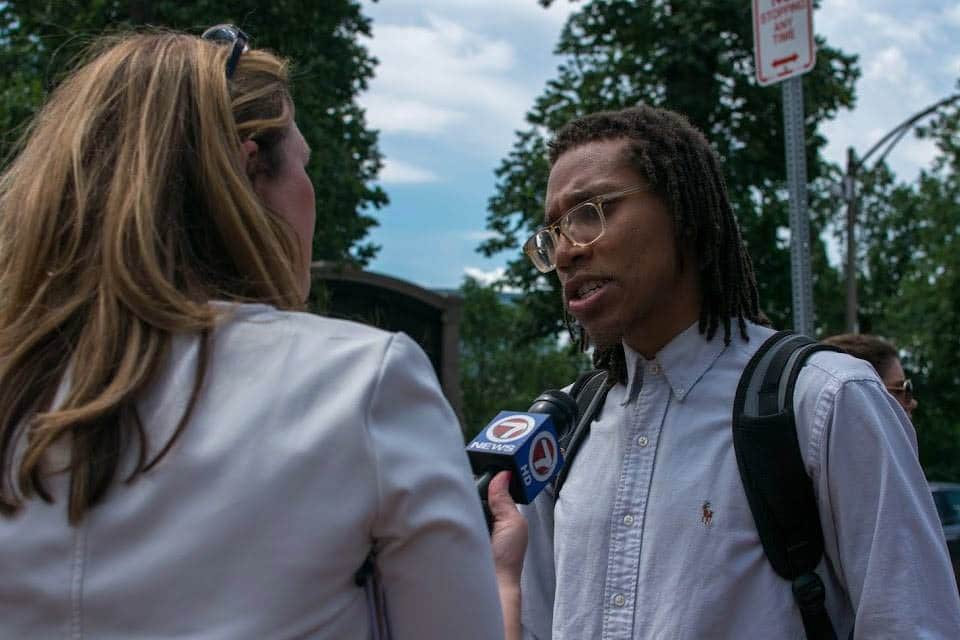 In November 2016, on the same night that a very charismatic but confused reality TV star won the White House, the state of Massachusetts legalized recreational marijuana. Though state residents have since enjoyed the freedom to legally smoke up—no doubt sorely needed in light of that night's events—they are still waiting for retail pot stores to open.
The growth of the Massachusetts cannabis market has been retarded by a complex legislative process, where each of the state's over 300 municipalities must decide if and how to regulate sales. It is in this environment that organizations like the Massachusetts Recreational Consumer Council (MRCC) have sprung up, providing valuable education and advocacy on behalf of budding entrepreneurs trying to break into the industry.
"Americans need to do more than just vote to see changes in this country," said Kamani Jefferson, President and co-founder of MRCC, in an interview with TNM. "As a lobbyist, you are a strategist who sees the power of voters, laws and politicians themselves. My infamous quote is, 'I never cared about politics 'til weed got legalized'."
But MRCC has recently taken more aggressive steps to influence the direction of legalization in their state. On July 17, the organization made a public withdrawal from a local event titled 'Innovation, Equity, and Opportunity: A Jobs Fair for a New Economy.' This event, co-hosted and sponsored by a variety of local organizations and companies, provided networking opportunities for the cannabis industry, and a clinic assisting in criminal record sealing.
In their official press release, MRCC cited concerns over two companies involved in the event, the Massachusetts Cannabis Business Association (MassCBA) and MedMen. "Our constituents are confused about why we are partnering with organizations like MassCBA, whose affiliates have previously lobbied to prevent individuals from marginalized communities to participate [sic] in the legal cannabis industry," MRCC said. As evidence, they linked to a video of a public lecture where Jay Youmans, a MassCBA affiliate with the law firm Smith, Costello, & Crawford, discussed illicit cannabis producers in the state's legal industry:
"Simply put," Youmans says in the video clip, "the vast majority of illegal operators and applicants lacking sufficient capital are ill-prepared to handle the massive Chapter 280E burden." Youmans refers to Section 280E of the Internal Revenue Service, which forbids businesses from deducting ordinary business expenses from income made from trafficking illegal drugs. MRCC believes this comment suggests MassCBA does not represent the interests of small cannabis entrepreneurs.
MRCC also criticized the focus of the jobs event. "The job fair will provide entry to mid-level positions," they continued, "however, we believe members from our communities should not only be employees of the workforce, but also owners and cooperative owners of cannabis businesses to create communal and generational wealth."
Besides calling out MassCBA, MRCC also voiced serious concerns about another company sponsoring the event—MedMen. This California-based pot retailer operates over a dozen stores on both coasts, making it among the largest cannabis companies in the U.S. MRCC alleged the company is engaged in anti-immigrant and anti-worker practices, based on two recent reports.
Cannabis Wire reported in June that the political action committee What a Country! (WACPAC) has received two $5,000.00 donations from MedMen CEO Adam Bierman and the MedMen Opportunity Fund II LP, respectively. WACPAC was formed by Representative Carlos Curbelo of Florida, a Republican, in 2015. Though Curbelo himself has supported marijuana legalization in Congress, his record on immigration is mixed.
Curbelo supports protections for Deferred Action for Childhood Arrival (DACA) recipients, immigrants who were brought to the country illegally as children. This population of just under 700,000 were formerly offered certain protections by the eponymous Obama-era executive policy until President Donald Trump reversed policy last year.
However, earlier this year Curbelo voted for a two-year extension to the federal budget not tied to ensuring DACA protections. DACA was considered a crucial piece of leverage for immigration advocates in highly conflicted federal budget negotiations earlier this year. In addition, Curbelo has supported deporting suspected gang members and withholding Affordable Care Act (ACA) subsidies to people who cannot verify their citizenship.
But it is not some of Curbelo's positions, alone, that have raised red flags for the local cannabis community in Massachusetts. According to Cannabis Wire, WACPAC has donated over $63,000.00 in this election cycle to twenty-six congressional candidates in various states, many of whom have more extreme views on immigration. These positions include penalizing 'sanctuary cities', refusal of amnesty, making English the official language of the U.S., and supporting President Trump's travel ban for several Muslim-majority countries.
MRCC shared this report in their press release, demanding MedMen "remove funding from anti-immigration efforts that separate families and harm individuals affected by the War on Drugs." In a subsequent statement, co-founder Sonia Erika spoke in even bolder terms: "Children are currently sitting in detention centers; this is not something we take lightly."
MRCC further cited a report in Equity Guru that alleged MedMen has stolen tips from employees in its West Coast retail stores, in violation of state law and union agreements. The report cited claims from several MedMen employees who were told their paychecks would be subject to deductions based on electronic tips given by customers, without further explanation. Normally, tips are paid at the end of each day, the report said.
In their subsequent statement, Erika questioned MedMen's rapid expansion. "The real question is how are you creating these thousands of new jobs?" she said. "Are you offering a path to generational wealth and ownership? On the one hand MedMen funds job fairs and expungement clinics, on the other hand we've heard from multiple sources you are mistreating your employees. To work together, we must be on the same page. Build your empire properly. The foundation looks weak."
Other members of the Massachusetts cannabis community also responded to the exchanges. "MedMen's history is problematic," said Shanel A. Lindsay and Beth Waterfall, of Equitable Opportunities Now (EON) and ELEVATE New England, in a joint statement. Both organizations co-hosted the jobs fair in July with MassCBA. Lindsay and Waterfall explained how reports of MedMen's negative treatment of employees and their conflicts with the Drug Policy Alliance in similar past events "have certainly impacted the company's reputation in the equity community."
Lindsay and Waterfall stated that if they had been informed from the beginning of MedMen's involvement in the MassCBA event, they would not have "been in support of [their] sponsorship." Though EON and ELEVATE NE continued to take part in the event, they declared they would not accept financial donations from the other organizers or sponsors. "MedMen should take time not only to reflect on our concerns but also to act upon them," they said.
MedMen responded to the allegations in an exclusive interview with Psychedelic Times, not denying they had donated to Representative Curbelo's PAC. "Political candidates have a diverse set of views on any issues," said Daniel Yi, Senior Vice President of Corporate Communications. "We're not in the business of dealing with immigration policy, and that's not even the purpose of the WACPAC. Regardless, we don't want any distractions from our mission to legalize marijuana. We respectfully asked Curbelo for a refund and he has committed to refunding our contribution."
Asked if their company should be held accountable if their political donations reach extremist candidates even indirectly, Yi said, "By that logic, you almost can't give to anybody. People's different beliefs are not so binary. It's a false premise to put them to that litmus test." Yi conceded, however, that MedMen grew uncomfortable with some of the candidates WACPAC supported. It can be very complex to keep track of where money goes in a leadership PAC that supports campaigns rather than specific issues.
Responding to the claim of stolen tips, Yi dismissed it firmly. "We're valued at $1.5 billion," he said. "The idea we would steal tip money from employees is ludicrous. Tip money is taxable. Earlier this year we realized that our payroll staff had neglected to withhold income taxes on electronic tip payments. This money goes to the Internal Revenue Service. After the error was caught we informed our employees there would be deductions in their paychecks, but that wasn't properly communicated to everyone. We see how it could have caused confusion."
MedMen referred Psychedelic Times to contact the United Food and Commercial Workers 770 (UCFW), who represent their employees, to verify the issue was resolved. The union confirmed this.
MassCBA also responded to MRCC's concerns. "I would like to again state for the record that I believe successfully transitioning the illicit market to the legal market – including migrating and welcoming those who currently make up the illicit market – will be of significant importance to the success of our industry," said Jay Youmans in a statement.
He explained further that he continues to oppose certain proposed state cannabis policies, such as allowing non-retail pot deliveries, because of his belief that they actually shut small entrepreneurs out of the industry. High federal and state taxes and "rampant illegal host community agreements" all place an unequal burden on new industry entrants, Youmans said.
Youmans refers to agreements made between cannabis companies and town governments, such as one reached between Sira Naturals, Inc. and the town of Milford. The cannabis producer agreed to pay the town $250,000.00 a year in exchange for allowing them to expand their existing medical business to include recreational sales.
"This predatory behavior on patients is unacceptable," said Nichole Snow of the Massachusetts Patient Advocacy Alliance in a 2016 interview. Snow argued that these agreements enrich local governments and pass the cost onto consumers who pay higher prices for their cannabis. "The Host Agreements should be more focused on community reinvestment," he said, "not trying to make a buck off the backs of the sick and vulnerable."
But in his statement, Youmans also commended MRCC's work advocating for minority and disadvantaged populations in the cannabis industry. "To this end, if there is interest in creating an entrepreneurship clinic or minority ownership event in the future, please count MassCBA as an interested partner," he said.
Despite the conflicts, MRCC stands firm on the issues they have raised. They are developing a toolkit to help other businesses and organizations in Massachusetts unite around these and similar issues. They plan to use boycotts and organized action to highlight conflicts like these in their local industry.
"MRCC can't do this by ourselves," Jefferson said in an exclusive interview. "Other individuals and small businesses must fight for what's right including equity, workers' rights and mitigating harms in communities affected by the war on drugs."